Cut & Assemble Haunted House: An Easy-to-Make Paper Model
by Matt Bergstrom
published by Dover Publications, 2018 ISBN 978-0-486-82397-3

Enter an eerie world with this cut-and-assemble model, which allows you to see both sides of a haunted house. One side features the exterior of a tall, narrow home with bay windows, dormers and a front porch. The other side reveals a busy interior with a variety of rooms plus a basement lab and haunted attic. Best of all, you'll meet a colorful crew of supernatural residents – ghosts, zombies, werewolves, vampires, witches, and other ghouls.
Simple instructions ensure that it'll be easy to put your new house together and let the haunting begin!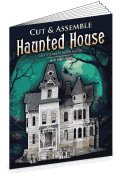 Order the Haunted House model book