Cut & Assemble Santa's Workshop: An Easy-to-Make Paper Model
by Matt Bergstrom
published by Dover Publications, 2017 ISBN 978-0-486-81902-0

Get ready for Christmas with a fun-filled project that not only offers a holiday activity for the whole family but also makes a charming keepsake decoration. One side of this festive model looks like a traditional cut-and-assemble building and the other reveals the interior of Santa's workshop. The dollhouse-like effect includes scenes of Santa's elves at work and Mrs. Claus in her office, checking off a list of naughty or nice names.
No prior experience is necessary for assembling this easy-to-make model. Detailed instructions and diagrams explain every step of the assembly process, from cutting, folding, and gluing to adding the finishing touches.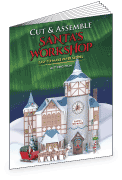 Order the Santa's Workshop model book