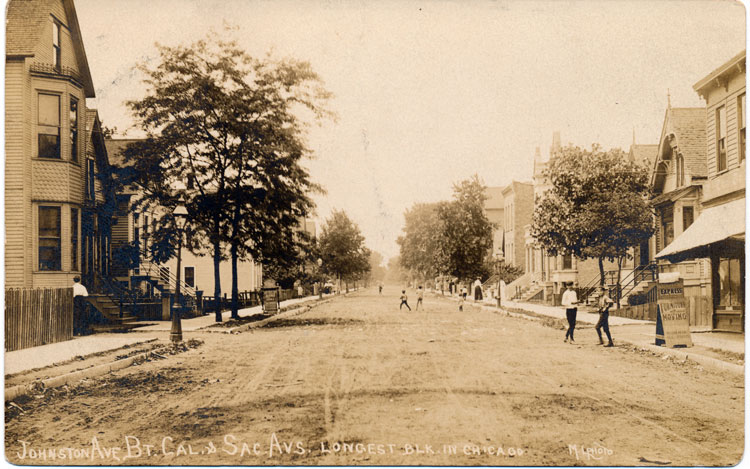 Avenue to the Past
How can we tell the story of a city street? How many people have called it home in a hundred years? How many generations of children have played in its houses and wondered about their place in its long history?
If we walk down the street and look carefully at the old houses, sometimes we see fragments of the story of the place. Photos and stories of residents help put together the rich connected history of the people who once called it home.
The two long blocks of Lyndale Street between Kedzie Boulevard and California Ave. in Chicago's Logan Square were developed in the early 1880s as Johnston Avenue. The area was not annexed to Chicago until 1889, and the Metropolitan Elevated opened its station at California in 1895. The street was renamed Lyndale in 1920.
The postcard photo by M-L Photo Studio shown above captures a summer day at the east end of Johnston Avenue in about 1908. In the distance children play baseball in an open roadway free of traffic, which seems deceptively wider than our modern street with its crowded parked cars. In 1908 autos were still a luxury for the rich and probably unaffordable to the working-class residents of Lyndale.
The houses visible in the photo are a mix of wooden single-family "worker's cottages" such as those on the right, taller frame two-flats seen on the left, and a few greystones glimpsed between trees farther down on the right. The corner of a small storefront can be seen on the very right with a sandwich-board advertisement in front.
Although the roadway has changed dramatically, the houses on it have remained remarkably preserved up until the last few years. From 2016 to 2019, twenty houses on the two long blocks of old Johnston Avenue were demolished to make way for new construction. Most of these houses were built in the 1880s and 90s. The picturesque cottage on the right just past the alley was torn down in early 2018 and the house beyond it in 2019. Each demolition for new construction is a break in the continuity of the story of the street, and all who live on and walk down Lyndale Street are the poorer for this loss of history.