The Namesake
For its first four decades, Lyndale Street was known as Johnston Avenue. The street was surveyed and subdivided in 1881 and 1882 by real estate developer John Johnston Jr., just one street among hundreds he created on the open prairie at the edges of the growing city. Why did he choose this short street of all his developments to name after himself?
The Daily Inter-Ocean newspaper published a booster book advertising the city in 1883, entitled Chicago's First Half Century, which includes a rosy description of Johnston's year-old street: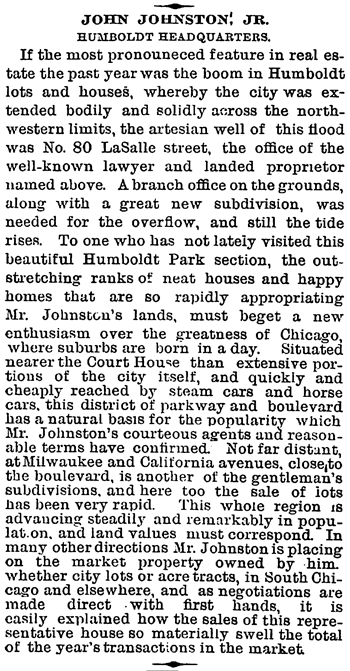 John Johnston was born in Knoxville, Illinois, near Galesburg in 1845. After finishing high school in Peoria he continued his schooling at Kenyon College, Yale University and finally Albany Law School. He returned to Galesburg before coming to Chicago in 1868 and began his law career with a partnership with the well-known attorney Emory Storrs.
Two years later Johnston began investing in real estate, as his father had done in Knoxville and Galesburg. He bought up farming estates and undeveloped prairie land on the outskirts of the city to the south in Lake Calumet, on the west side in Austin and Oak Park, on the northwest side in Logan Square and Humboldt Park, as well as other areas.
Johnston specialized in developing small city lots, targeting the large market of immigrant and working class buyers looking for simple houses with mortgage payments which would be less than paying rent. Johnston's company seems to have been rather low-key in its sales tactics in comparison to contemporaries such as developer Samuel E. Gross who left a rich paper trail of promotional pamphlets and newspaper ads for excursion trains to sales events at their developments.
Johnston did well in the real estate business. He built a lavish mansion near Lake Geneva designed by his brother-in-law Henry Lord Gay, and donated land from his estate to the University of Chicago for building Yerkes Observatory. Newspaper articles from the time record the details of wife Elizabeth's bridge parties and society comings and goings, but not whether the Johnston family ever came to see their namesake street as it developed.
In 1905 Johnston and his family moved to California, where he continued as a real estate developer and became city attorney of Oceanside near San Diego, before passing away in 1927.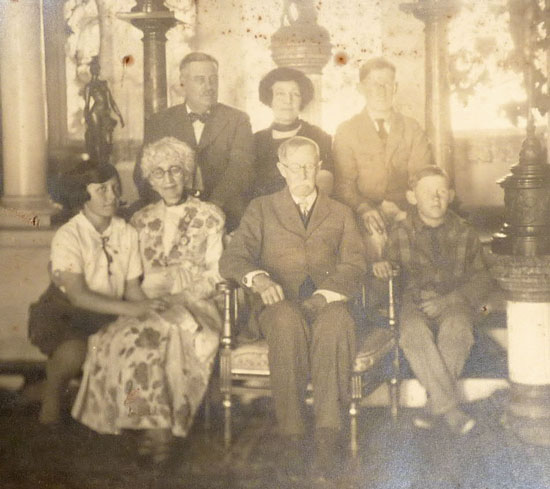 Among those pictured in the photo above, son John Johnston III became a mining engineer and early vineyard owner in San Diego. Youngest grandson Daniel H. Johnston became an important real estate developer in the growth of Escondido in the 1940s-50s.