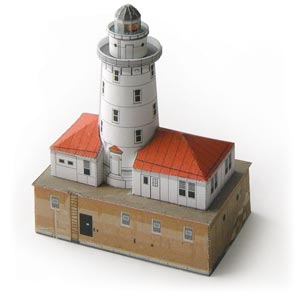 Chicago Harbor Light
---
Start by cutting out the base of the lighthouse. Fold the base into a box shape and glue the top to the walls. Line up the two notches in the top of the base with the two ladders on the walls.
Next, score the triangular flaps on the lighthouse tower, then cut it out. Roll the tower into a cylinder, taking care to glue it carefully straight and smooth. See the Tips & Techniques page for a tip on making a smooth round cylinder.

Glue the lighthouse tower to the base. Line up the letter A on the base with the letter A on the tower.
Cut out the fog horn and storage buildings. Score and fold them to the correct shape and test their fit before gluing. Run a little glue along the bottom edge of the walls to attach them to the base and glue tabs B & C to their places on the tower. Then glue the other building in the same way to tabs D & E.

Fold the rooftops along their dotted lines. Fold the tab on the larger roof under and glue into position. You can set the roof on top of the building to get the angle of the roof right.

When the larger rooftop is dry, glue both into place against the tower and on the tabs of the side buildings.
| | | |
| --- | --- | --- |
| | | Score the folds of the tiny lantern cupola and then cut it out. The triangular roof pieces fold in towards the center and are glued against one another. You may wish to put a small wad of tissue paper inside the apex of the roof to give the tips of the triangles something to "grab" against one another while the glue is setting. |
Start from the bottom up with the upper levels of the tower. First glue the larger circular balcony to the tower, then the cylindrical wall of the next level. Turn the cylinder so that the ladder lines up with the little red awning at the base of the tower. Then glue the smaller circular balcony and finally the lantern on top of all.

Lastly, cut out the two balcony railings. Use a round stick to curl and roll the paper into a wide cylinder and glue its "tail" underneath to complete the cylinder.

Place a tiny bead of glue on the bottom of each railing and set each in place on its respective balcony level.
And now your Chicago Harbor Lighthouse model is complete!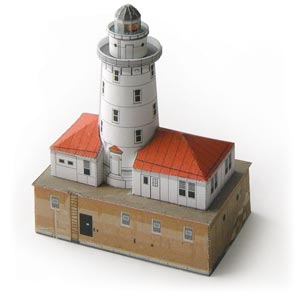 If you'd like an added challenge, add railings and clear windows to your lighthouse model on the Extra Projects page.