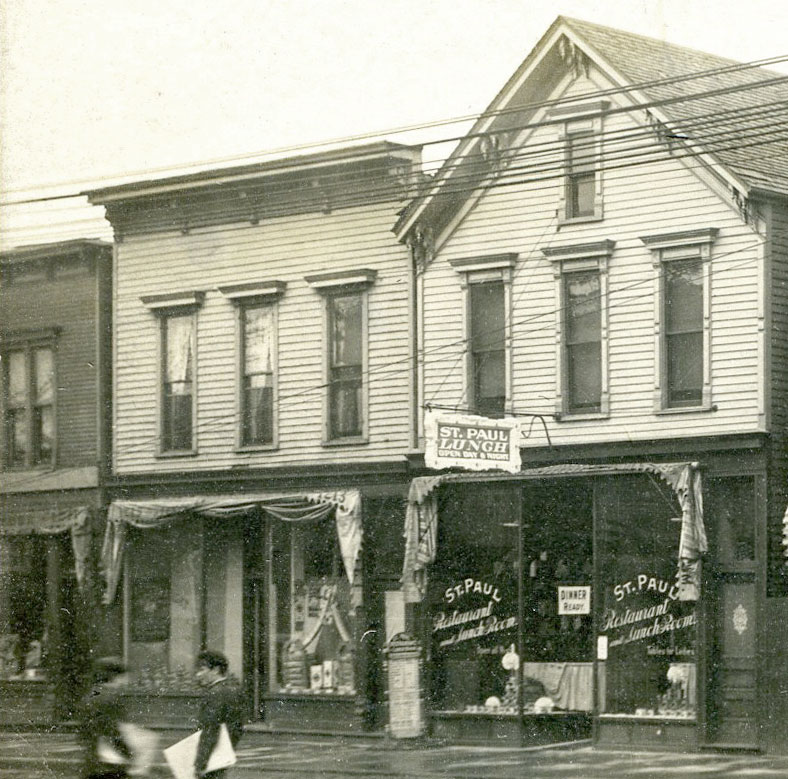 Open Day and Night
Next to the meat market in the photo above is the St. Paul Restaurant and Lunch Room. "Open Day & Night" proclaims a hanging sign. Out front, there is a sandwich board on the sidewalk with the day's menu. A small cardboard sign on the door invites hungry passersby with an announcement that dinner is ready.
In 1910 this small cafe was run by Greek immigrant James Macris. His siblings or relatives Charles and Harry Macris ran several other small cafes in what is now the River North area. In 1916 or 1917, James moved to Oak Park to run a restaurant there and left operation of the St. Paul to Harry.
Though the heyday of Greek-run diners that many are familiar with today dates only to the post-World War II era, there is a long heritage in Greece of kaffenion, or coffee shops, where men gather to socialize over coffee or perhaps a shot of ouzo. James and Harry Macris's establishment may have been a humble cafe of this type.
We might imagine that the St. Paul, like other lunch counters of the era, featured a dozen or so stools along a counter facing a flat-top grill where a waitress took orders and a cook served up made-to-order meals. A sign on the window advertises "Tables for Ladies" so there were probably a few small tables and chairs along the wall opposite the grill.
If only we could read that sidewalk signboard to see what was on the menu! Many greasy-spoon staples that restaurant-goers enjoy nowadays, such as Reuben sandwiches, Caesar salads, patty melts and Denver omelets were not created until the 1920s or decades later. Even pre-sliced bread for toast was not invented until 1928. The origins of many other classic American dishes are little recorded and little known.
What particular items were served at the St. Paul? We can only guess how many cups of coffee the diner poured in the decade or so that it was open. How many slices of pie, pork chops, cups of soup, fried potatoes and eggs fed all those afternoon diners and hungry night owls?