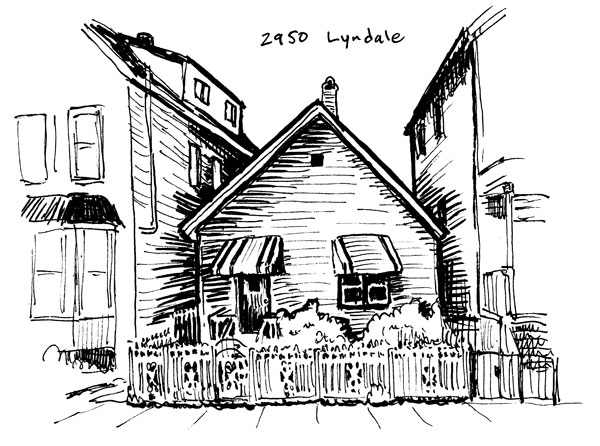 Cottage Living
The houses on Lyndale Street are a mix of ages and architectural types. The oldest houses on the block are the smaller wood-frame workers cottages which have been disproportionately targeted for demolition by modern-day real estate developers.
This vernacular building style enjoyed widespread popularity throughout the Midwest in the late nineteenth and early twentieth century. With an abundant supply of old-growth Wisconsin lumber, new techniques of balloon framing and mass-produced components, the houses could be put up quickly and cheaply. Built in wood or brick with or without a basement and in a variety of sizes and finishes, the style was adaptable to the needs of any working-class family. The style usually featured a simple gable roof with an offset front entrance facing the street.
Samuel E. Gross was a real estate competitor to John Johnston Jr. The S.E. Gross company developed numerous Chicago suburbs (notably Brookfield which was originally named Grossdale), but also plotted city subdivisions and built thousands of cottages for working-class customers.
The company promoted its offerings with heavily-illustrated pamphlets, such as one from 1891 where we find the image below. A real or imagined model home from the S.E. Gross subdivision just south of Humboldt Park shows the floor plan of a 20' x 40' workers cottage available for $2,100. The house is built from brick atop a raised basement, with terracotta and stained-glass details.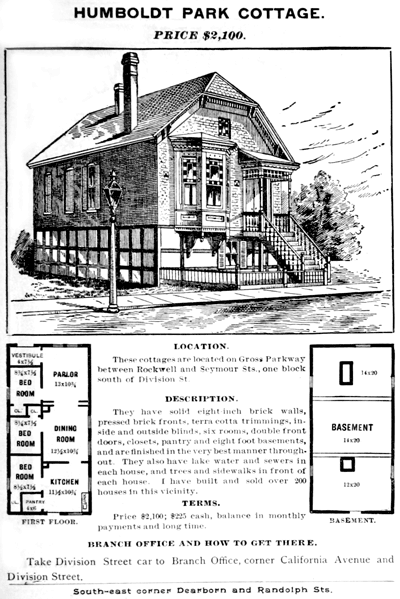 The cottages on Lyndale, by contrast, were made of wood. Margaret and Frank Pitts purchased a finished house at 2950 W. Lyndale from developer John Johnston Jr. in June 1885 for $1,100. The 20' x 40' house was built with a shallow crawlspace foundation instead of a basement. The smaller usable space and different materials may explain the cheaper price, but perhaps the Lyndale house lacked the extra ornamental finishing seen in the Humboldt Park Cottage as well.
The Pitts family lived here for four years before moving downstate. How they crowded seven children (from 12-year old William to toddler Grace and baby Genevieve) into this 800-square-foot house is anyone's guess. The older children probably slept in the attic. Did the house originally have three tiny bedrooms in a floor plan similar to the Humboldt Park Cottage shown above?
At some point a 10-foot addition was added at the back of the house, perhaps to accomodate an additional bedroom. A rental listing from the 1990s describes the house as having 5 rooms and 2 bedrooms so it had probably been remodeled at least once over the years. The house was demolished in 2012.