Taking the Cure
In the December 20, 1896 issue of the Chicago Tribune we find a surprise portrait of a long-gone Lyndale neighbor: the carpenter John Beck, who rented an apartment from Pasquale Mesce in the greystone two-flat at 35 Johnston Ave, which is now 2834 W. Lyndale. He is a fellow with a fine mustache who might not look out of place in any modern hipster cocktail bar on Milwaukee Avenue.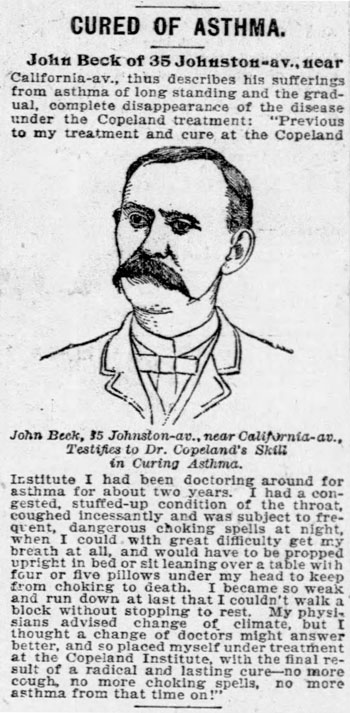 Mr. Beck appears in an advertisement for the Copeland Medical Institute, a heavily-promoted treatment center for all manner of difficult-to-treat ailments. The Copeland Institute maintained clinics in New York, Boston, San Francisco, and smaller cities, but the home office in Chicago was presided over by Dr. William H. Copeland himself. Dr. Copeland was successful enough to hire Frank Lloyd Wright to remodel his mansion in Oak Park in 1909 in the new Prairie Style.
At the Copeland Medical Institute, patients soothed their throats with patent medicines concocted by Dr. Copeland. The treatment for asthma required placing several drops of a mixture into a steam vaporizer as shown in this 1897 advertisement from the Copeland Institute New York office: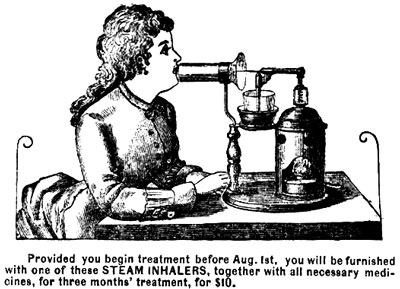 Despite the impressive technology, the medical procedures to diagnose patients were not very scientific. At a clinic which promised to treat any disease, there was a pricey patent medicine for everyone. Investigative journalist Samuel Hopkins Adams wrote an exposé of the dubious practices of such cure-all medical centers in a series of magazine articles collected in his 1906 book The Great American Fraud: Articles on the Nostrum Evil and Quacks. Adams quotes a colorful doctor who worked at the Copeland Institute in Des Moines: "the office girl made the diagnoses and the laboratory was presided over by an expert chemist at $7 per week, who was a graduate from the Chamberlain Remedy Company, where he had taken a course in bundle-wrapping."
"Under our treatment there were hopeless incurables who had given up a fee every month for periods varying from one month to eight years in one case. The policy was, when you couldn't keep the sucker under treatment any longer, to tease the testimonial out of him by some means. Well, we were a sweet bunch of philanthropists, and our motto was, 'A cured patient pays no fee. Keep 'em sick!' which was done by 'suggestion' for longer or shorter periods. Over 30,000 people were treated from this office."
If similar practices were going on at the Chicago office, perhaps John Beck's happy testimonial celebrates not just his triumph over chronic asthma but also his escape from the chronic financial chokehold of quack medical treatments. Here's to your health, Mr. Beck!