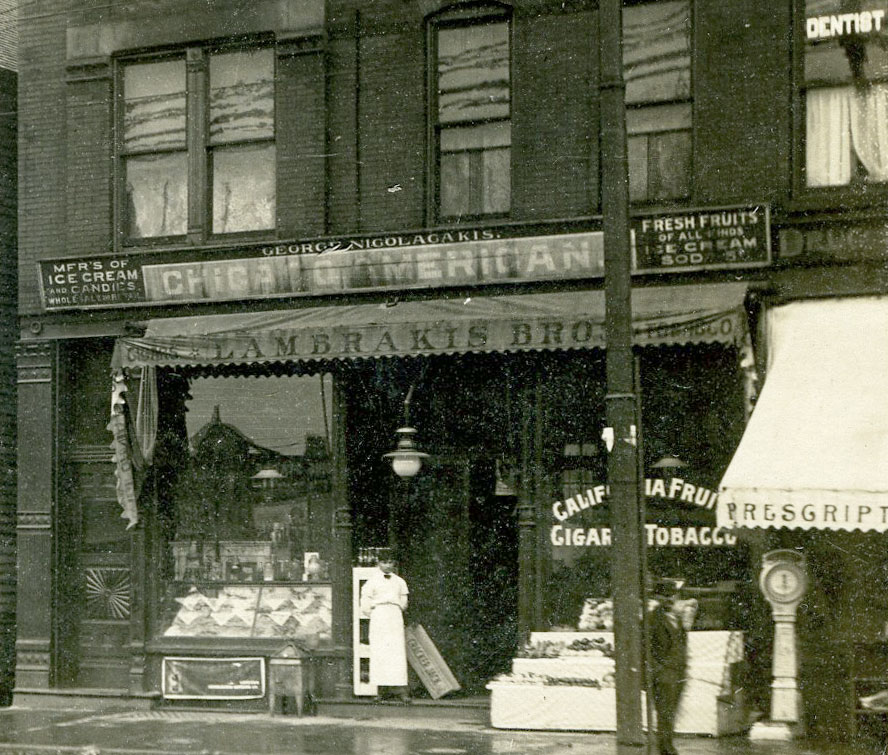 The Ice Cream Partnership
The right-most storefront in the 1908 postcard photo is a grocery store at 1217, nowadays renumbered as 2236 N. California. Above a wide wooden Chicago American newspaper advertisement is the name of the store's proprietor: George Nicolacakis. The awning below, however, lists the Lambrakis brothers as the store owners.
In December 1905, building owner Hugo Otto signed a lease with George Nicolacakis to run a fruit and vegetable store in the space. The Lambrakis ice cream and candy store may have sublet the storefront from Nicolacakis or the two businesses may have split the rent and retail space.
Many newly-arrived Greek immigrants in the early 1900s became entrepreneurial candy-shop owners. The Lambrakis Bros. store is not to be confused with a different confectionery run by an unrelated James Lamprakos in the Logan Square L Terminal at 2529 N. Kedzie around the same time.
The enlarged postcard view above shows the front of the shop in about 1908. The fruit display on the right may be a bit meager, but the boxes of candies or treats on the left look better-stocked. Perhaps that is one of the Lambrakis brothers standing next to a Cracker Jack box in the doorway.
At the time of the photo, 31-year-old Constantine "Gust" Lambrakis ran the candy shop with the help of his younger twin brothers Anastasios "James", and Demetrios "Theo" Lambrakis. The three brothers lived about a block away from the store in an apartment at 2228 N. Washtenaw with Gust's wife Theodora and the couple's three small children (five more children were born later). The twin brothers had come to America separately just a few years beforehand when they were just thirteen years old. Theo had only $16 in his pocket on his journey across the Atlantic to join older brother Gust in Chicago.
In 1913 or 1914 Gust and Theo moved the Lambrakis Brothers candy shop to a storefront under the L tracks on Argyle Street in Uptown. Several years later, James was working as a waiter in faraway Butte, Montana. What happened to break up the brothers' partnership? Eventually Gust saved enough to buy a building on the southwest corner of Clark & Carmen in Andersonville, where he ran a candy shop for many years until retiring in 1946.
Theo worked as a waiter during this time, perhaps at his brother's shop or at another restaurant. At age 41 he married a German cook and the couple had two children.
In 1949, Gust and Theodora celebrated their golden anniversary with many friends and relatives, as described in the Chicago Tribune: