Pure Milk
The storefront at the southeast corner of Lyndale and Sacramento pictured in this detail of a 1908 postcard photo still stands. Though the first floor entry has been modified at the corner, the upper floor is remarkably unchanged to this day. The wooden brackets and decorative Victorian cornice still overlook Lyndale.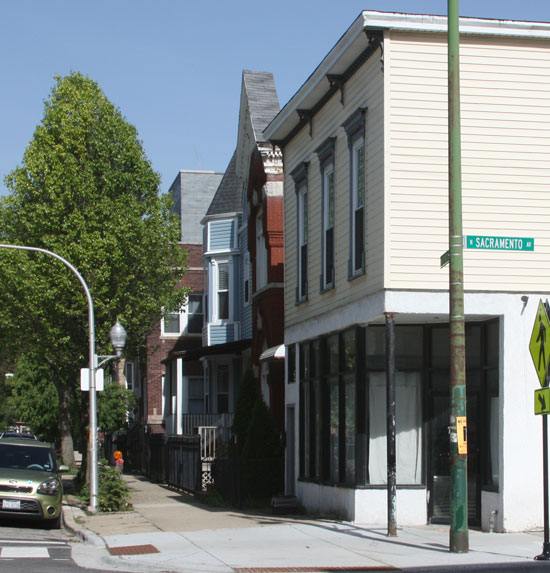 The storefront on the corner with an apartment above was built in about 1885. In 1900 the building was owned by wholesale grocer Salve Peterson and the store was run by tenants Gustav & Ellen Larson. The Larson family would later move down the street to run a basement laundry business at 2821 W. Lyndale.
In June 1903, milk dealer Jacob Nielsen bought the property for $3,500. Nielsen also owned the small store on the northwest corner of the intersection at 3000 W Lyndale where Jacob Westphalen once had a junk store and coal sales shed. The Nielsens lived there for several years before demolishing that building in 1910 to erect the brick storefront and apartments which stand today and are occupied by the Tropicuba restaurant and Miko's Ice.
In October 1908, Jacob Nielsen sold the grocery at 2955 to Max & Maren Crown, so the postcard photo was likely taken before then. The Crown family ran the store at 2955 until the 1930s and owned the property until 1964.
Two signs are visible in the 1908 photo. A tin sign on the side of the building advertises Butternut Bread, the signature brand of Chicago's Schulze bakery. The other sign below the awning reads: "J. Nielsen Pure Country Milk Cream Depot".
Urban milk supply safety was a serious health problem in the last decades of the 19th century, but Chicago was making some improvements: a 1904 law required all milk to be sealed while making the long journey from country to the city, and in 1908 Chicago became the first city to introduce pasteurization, though it took nearly a decade to put into effect due to resistance from milk dealers and farmers. A 1912 report by the Health Department still found that only a third of milk sampled was actually clean.