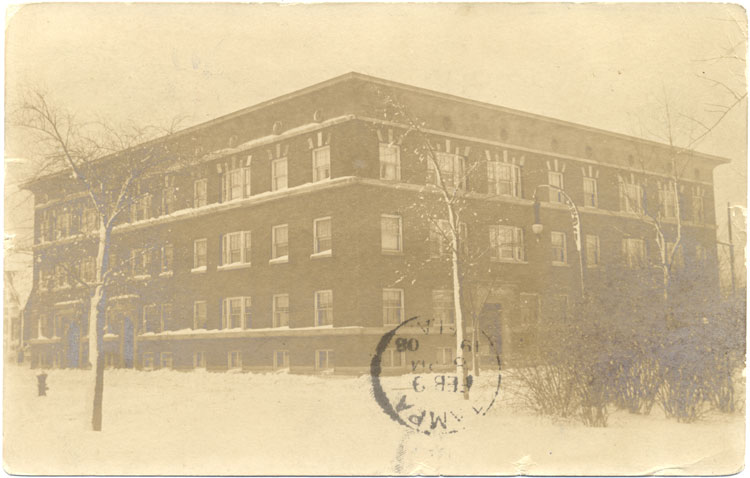 Who Was Henrietta?
The two large brick apartment buildings which stand at the corner of Lyndale and Kedzie Boulevard are a contrast to the smaller houses and two-flats on much of the rest of Lyndale. These sibling buildings were once known as the "Jeanette" and "Henrietta" apartments.
The 21-unit building on the north side of the street was built in about 1911 by contractor John A. Wilsberg. Several real estate ads from the next year list the "Jeanette" but the name seems little used after that. There is now no sign of the name on the building.
The apartment on the south corner, also with 21 units, was built in the summer of 1906 by developer John E. Crate. The name "Henrietta Apartments" was probably never marked on the exterior, but it was used in rental ads for two decades.

The large L-shaped building extends for about 100 feet on each side of the corner. It features a projecting Egyptian-style cornice in stucco, ornamented by roundels with a curly-haired woman surrounded by classical scrolls and other doo-dads. Is this an image of the mysterious Henrietta? Who was she?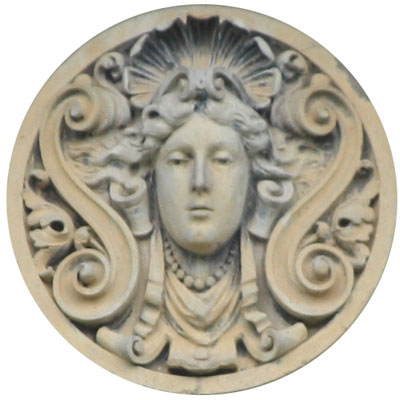 Did the name have some meaning to the building's owner? Was the building named after someone in particular? John Crate later built several other smaller buildings with names in Logan Square, such as the Catalpa Apartments (2457 N. Albany) and the Victoria Building, which once stood at 3135 Logan Boulevard.
Crate had immigrated to Chicago from Ireland in his late 20s. His first career was as a fireplace mantel salesman, but after a decade in the city, he began investing in real estate in the late 1880s, gradually building a portfolio by buying or trading finished houses and empty lots.
By 1886 he was married to Emma Carson, a woman who had two daughters (Clara Belle and Mayme) from a previous marriage. Their marriage lasted less than five years. In divorce proceedings Emma alleged Crate had beaten her so severely that she had suffered damage to her hearing and sight in her left eye. Several small newspaper articles from the time mention Crate's arguments with business customers, giving the impression of an unsettled and irritable man.
Soon after the divorce Crate settled down with a new partner, Annie Thornton, who had a young son from a previous marriage. In fact she had kidnapped her son from the custody of her ex-husband's family. The boy was not rediscovered until his father, then working as a successful chef in San Francisco, returned to Chicago 18 years later, in 1909, and happened upon a newspaper article which gave him a clue to the boy's location living with Crate and Thornton at the Catalpa Apartments in Logan Square.
Perhaps "Henrietta" was simply a name meant to evoke a friendly personality with a hint of upper-class exclusivity. Construction of the building was funded by a $46,000 loan from the Jennings Real Estate Company, run by J. Elliott Jennings (who had no close relatives named Henrietta). The company sold shares of mortgage bonds at a guaranteed 6% interest rate to small investors who could put in as little as $100. A high transaction fee provided profits for the company, which it then loaned to developers building large apartments such as the Henrietta all over Chicago.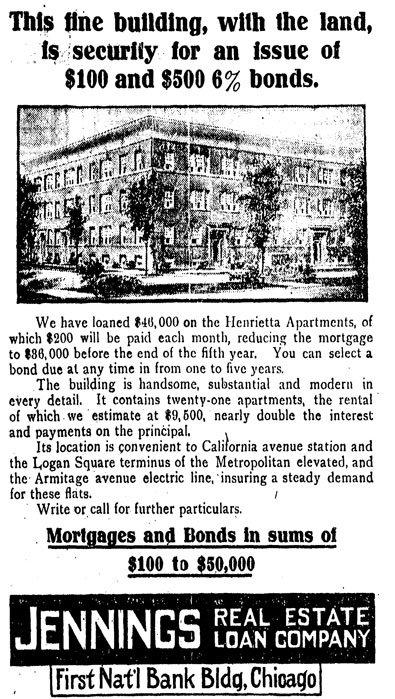 The novelty of the "Jennings System" attracted much attention and its All Night Bank stayed open 24 hours a day, every day except Sundays, Christmas and New Years Day. The fast-growing company loaned as much as $14 million, but this proved beyond its holdings. It all came crashing down in March 1907 and Jennings fled town to Los Angeles. Some investors filed lawsuits, but it seems that many never recovered their investments. When Jennings returned to Chicago in 1911 he was met by angry citizens on the street, but not charged with any wrong-doing.
Fortunately, the Henrietta Building was already finished by the time of these events. Developer John Crate only owned the building for a year before moving on to other projects. In June 1907 he sold the apartments for $70,000 to Anna Foley and her husband John, who owned the property until she passed away in 1940.