To Get Away with Murder
To Get Away with Murder Edward and Josephine Moe were the owners of two lost houses on Lyndale Street. In March 1882 they purchased an empty lot at 2903 W. Lyndale from developer John Johnston Jr. for $275. They built a small cottage where they lived for several years until selling it to Elizabeth Johnson in September 1885 for $950.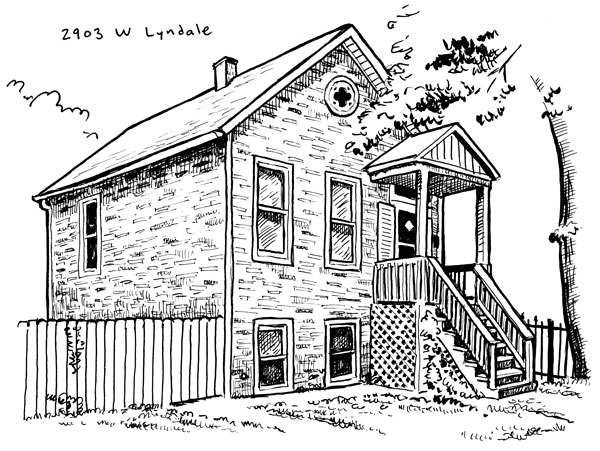 On the same day, the Moes purchased an empty lot a few doors away at 2863 W. Lyndale for $400. They built a two-flat here in the winter of 1885 or spring of 1886.
Edward tried his hand at a wide variety of jobs. Before living on Lyndale, he is listed in city directories as a teamster (wagon driver), night watchman and police officer. In the 1885 directory he billed himself as a doctor. He also found time to work as a postmaster at one of the Jefferson Township post offices.
1886 was an eventful year for the Moe family. In June, Josephine was legally declared insane. She died the following month of what the Daily Inter Ocean describes as "brain troubles." Whether this meant a stroke, or suicide due to mental illness is not clear. In September, Edward was working as a bartender at a tavern on Milwaukee Avenue. A gang of ruffians burst in, overpowered him and threw him out the door while they raided the liquor. Then at the end of October, rustlers broke into the barn behind Moe's house at 2863 and stole several horses and a covered wagon, in one of the first burglaries on Lyndale Street.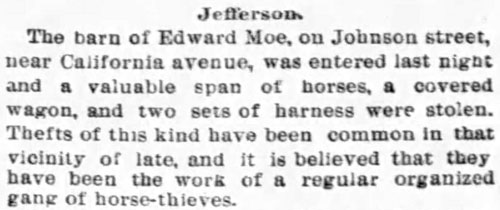 In 1888 Edward must have fallen behind on mortgage payments on 2863 and a creditor moved to foreclose on the property. Edward's 11-year-old daughter Josie passed away. Edward managed to hold on to the house and sold it to the Frederick Anderson family in August the following year. He moved an apartment at 1415 N Milwaukee and is listed as working as a carpenter in 1887. After that his whereabouts are difficult to track.
Several years later an Edward Moe shows up in newspaper articles. Could this be the same Edward who once lived on Lyndale? It's difficult to be sure that this is the same man from the limited details of surviving records. This Edward had married a woman named Annie Anderson in 1886, just a month after Josephine's death.
In October 1895, the Chicago Tribune reported that Edward and "Swedish Annie" Anderson were living on Halsted Street in what is now Greektown. Edward suspected that his wife had fallen under the charms of neighbor Peter Nelson. Someone gave him a tip on where he might find them alone together in a hotel room. At 9 am, Edward burst into the room, drew a revolver and fired: not at the interloper Nelson but at his wife. She was hit twice in the head and neck, but only grazed. By the following morning she had recovered and the couple apparently made a reconciliation. Annie declined to press charges.
A month and a half later, police were called to the couple's apartment. They found Annie Anderson in a heap on the bed, with black and blue marks on her neck, dead. Nearby was a noose dangling from a gas pipe. Edward claimed that he had been downstairs making coffee and found her in this condition when he returned. Police, and the reporter writing the story, seemed to think that the suspicious details indicated that Edward had murdered her. He was arrested but released the following day without charges. The coroner's report said that Annie had died of alcoholism, not strangulation.
Did Edward Moe use his connections as a former police officer to get the case against him dropped? The small fragments of his story we can follow from newspaper accounts are too little to understand, over one hundred years later, exactly what happened in Edward Moe's eventful life.