Gentlemen Farmers
On the first day of October 1885, Creighton & Sabrina Coffinberry, daughter Emma and son-in-law William Welch entered real estate developer John Johnston Jr.'s office on LaSalle Street. Each couple signed a contract for a brand new $1,800 1-1/2 story wood-framed cottage on two double lots next to each other at 3048 & 3052 W. Lyndale, then known as 177 & 181 Johnston Ave.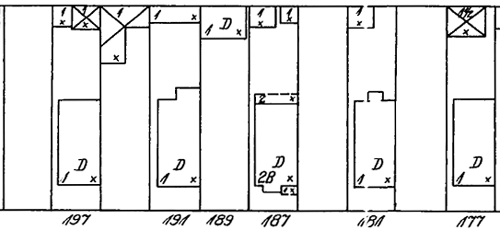 The extra lot next to each house might have been attractive as a garden area. Creighton Coffinberry worked as a printer by day, but in his off hours he enjoyed beekeeping. He was serious about the hobby, and at one point owned 100 hives spread across the west side of Chicago, where the bees could forage on the wild prairie flowers nearby.
He wrote articles about how to improve honey productivity, served as secretary of the Northwestern Beekeepers Society, and spoke at beekeeping conventions around the Midwest. He was the inventor of the Coffinberry Excelsior Honey Extractor, a type of device to remove honey without damaging the wax honeycombs.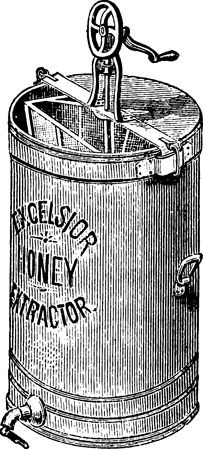 Coffinberry was one of nine children with a CCC monogram and seems to have inherited a restless spirit from his parents, Virginians who pioneered and moved west through Ohio, Michigan and Wisconsin, then later to Nebraska and Oregon. Creighton started as a printer in Madison, then worked in Peoria and St. Louis as well. Late in the Civil War he enlisted in the Union Missouri Infantry with his son William and served as a First Lieutenant.
Son-in-law William Welch by contrast worked as a shipping clerk downtown for many years. But apparently neither family's salaries were enough to pay their mortgages. By 1890 both families owed the Peoples Bank & Loan Association $3,550. In April of that year they sold the two houses at a loss and all moved to an apartment on Campbell Ave near Armitage.
Creighton eventually found work as head printer of the Railroad Mail Service, a government print shop in the post office downtown which cranked out millions of cards used to track and direct mail deliveries by train all across Illinois and produced a weekly industry newspaper.
In later years the two families enjoyed a busy social calendar of balls and galas at the Grand Army of the Republic post in Wicker Park, providing support for soldiers during the Spanish-American War and reliving the past glories of Lincoln's army. Emma served as president of the Women's Relief Corps and Creighton as commander of the post.
After their brief stint as homeowners on Lyndale, neither family bought property again, and instead lived in a succession of apartments in Wicker Park, Logan Square and Garfield Park. The Welch family may have struggled financially. In the 1920 census, 60-year-old Emma Welch worked a factory job assembling electrical equipment while William was unemployed. As an elderly man he found work as a night watchman. He passed away of a heart attack at age 74 while eating lunch at a Garfield Park restaurant.
* * *
Three months before the Coffinberry families bought their houses on Lyndale, Ignatz & Josephina Morgenstern also visited John Johnston Jr.'s office and paid $1,800 for a similar cottage house a few doors away at 191 Johnston, or what is now 3100 W. Lyndale.
Ignatz may have also been interested in the side lot as a place to do some hobby farming. An inspection by the Bureau of Animal Husbandry in 1886 lists a stable and a cow on the side lot at 3100, both in good condition.
Ignatz had an busy career as a manager, accountant and real estate agent. While living on Lyndale he was a bookkeeper for the Chicago Cooperative Brewing Association. He was also an active in many civic organizations, serving as president of the Pulaski Guards, financial manager of the Zgoda Polish newspaper, and secretary of the Polish-American Republican Club, the Polish National Building and Loan Association, and the Polish National Alliance.
A few months after moving in, Ignatz and Josephina convinced their relative Theodore Morgenstern, a barber, to buy the house next door at 3058, or 187 Johnston. Theodore only lived there a year before selling the building back to the developer Frank Dickey, and Ignatz and Josephina left as well in August 1887, after only two years living on the young street.