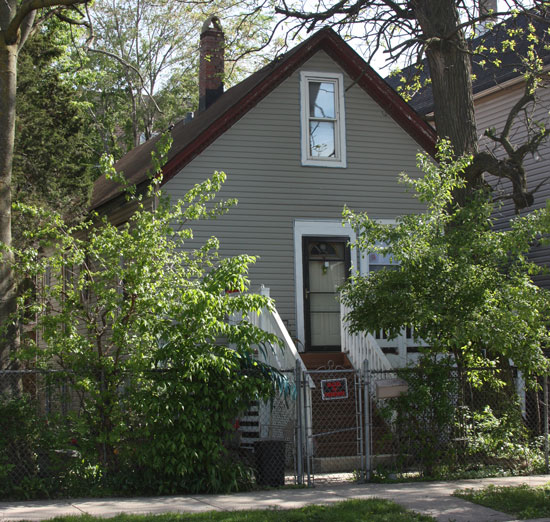 A Christmas Gift
On a cold rainy Friday evening in mid-December, a young woman tiptoed quietly in the darkness up to the house at 3021 W. Lyndale. She peeked one last time at the package in her arms and set it carefully on the doorstep, then rang the bell and ran off into the night. The Sunday Chicago Inter-Ocean from December 17, 1893 tells us what happened next:

John and Caroline Stade had lived in their little cottage for the past five years since their marriage. They were both 36 years old and did not have children. At that time John worked as an unskilled laborer.
There were many orphaned and abandoned children in late nineteenth century Chicago. Urban migration disrupted family connections and poverty or illness often separated many children from their parents. Older homeless kids drifted downtown to work as newsboys or join gangs of hoodlums to survive out on the street. In 1850 the Chicago Foundlings Home was set up to care for small children who were abandoned by their parents. Unlike orphans, foundlings were assumed to be the product of an illicit or premarital affair and carried a taint of shame even as innocent infants.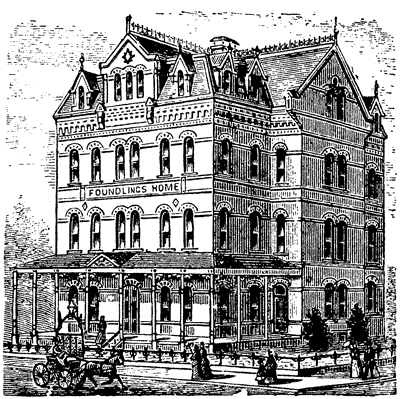 John and Caroline Stade could have easily chosen to bring the child to the Foundlings Home if they decided they could not afford to keep her or did not wish to have a child in their lives, but by the next day when a reporter visited they had made the decision to adopt her. The girl was only about six days old. They named her Matilda, or Tillie for short.
Who was her mother, and why did she pick this doorstep to leave her child? She may have been a teenager from one of the tenement districts or an unfortunate domestic servant working in one of the mansions of Wicker Park or any number of other possibilities. The only thing we can guess is that she had no other option for caring for the baby. As to why she chose this small cottage rather than some wealthier house to entrust her child's future, we have no idea. Is it possible she knew the Stade family had no children of their own?
John's brother Charles Stade and his wife Dora lived next door in the two-flat at 3017 W. Lyndale, so young Tillie had four cousins as playmates: Charles Jr., Emily and Anna who were older, and Emma who was slightly younger. The two houses sit on wide lots with open space between them, room for a garden and for children to play.
When Darwin School on Belden opened its doors in 1900, little Tillie was just the right age to join the first pupils in first grade. No doubt the teachers and children were excited to sit at brand new desks and feel part of a new beginning in the neighborhood.
Both Stade families and their children continued living on Lyndale after Tillie graduated school. She found work as a clerk in an office. The 1910s, however, brought a string of tragedies. Aunt Dora passed away in 1914 and her father John in 1916. Then Tillie herself became ill, and died on Valentine's Day 1919 at age 25. Uncle Charles died three days later. Perhaps they were victims of the dreaded Spanish flu pandemic which killed millions worldwide, though the records do not specify.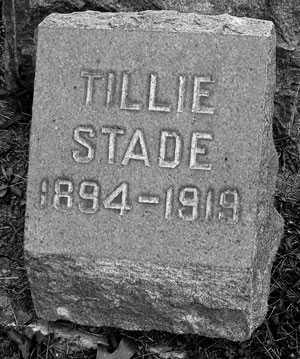 Tillie's mother Caroline lived at the house another five years before passing away. Her single cousins lived together next door for several years before each married and moved away.