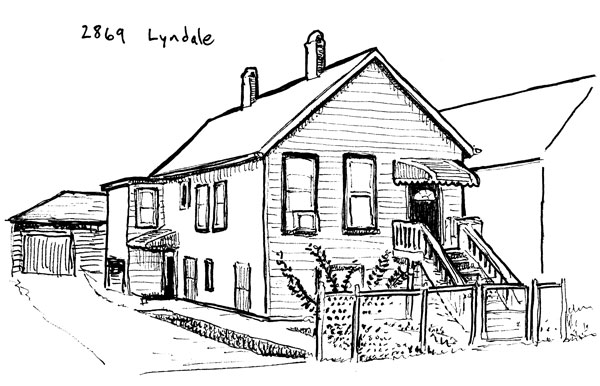 House with a Garden
In 1883, William and Emilia Pederson purchased the lot at 60 Johnston Ave, which would later be known as 2869 W. Lyndale. The property is a little wider than a typical Chicago lot, at 33 feet by 100 feet. Rather than building a wider house, the side yard was used as garden space.
The one-story frame house at 2869 was built in about 1884, in a typical worker's-cottage style with a walkup entry and a lower-level apartment entered from a side door. In the 1910s this was home to Alfred Courtois, who worked as an engraver, with offices in the Masonic Temple, the tallest skyscraper downtown. He and wife Bertha and three kids lived here for thirteen years before selling the property to George Lechner in 1924.
In 1929, Adolph and Edna Beckman purchased the house from Lechner. Perhaps they found the property from Adolph's brother-in-law James Mesce who grew up a few doors down the street at 2834 (a young neighbor of the carpenter John Beck). The Beckman children Robert and Beverly grew up here, and the house was owned by the family until Edna passed away in 1984. Recently, Jim Rader, grandson of the Adolph and Edna, sent several photos and described the interior of the house:
"The basement apartment had a side entrance from the yard. It was quite small, with one bedroom, kitchen, bathroom and living room. About a third of the basement was taken up with a more basementy sort of area, with a furnace, a place for coal (I remember my grandmother shoveling it), and a workroom in the back. The upstairs apartment had three small bedrooms."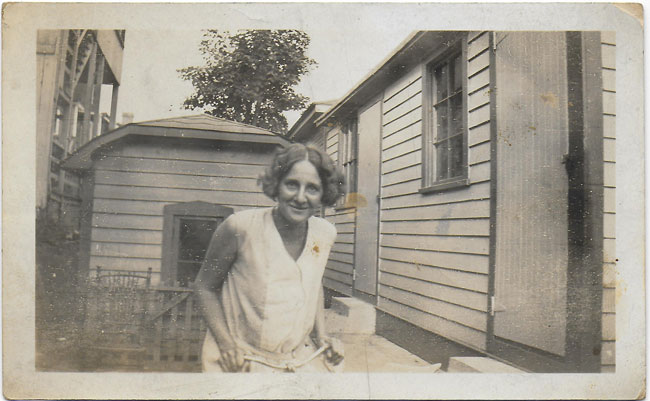 Adolph Beckman was born in 1897 and grew up in Humboldt Park. Jim Rader continues: "My grandfather worked at Gutmann's, a tannery on Webster Ave. near the Chicago River, as did his father-in-law (my grandmother's father), two of my grandmother's half-brothers, and various other relatives. There used to be a lot of tanneries in that area, working with the hides that were brought up from the stockyards on the South Side."
"Up until 1961 my parents, my sister and I lived on the corner of Richmond and MacLean, which is an easy walk from Lyndale. By some quirk of city planning, Richmond and Mozart ended at Palmer, so we used to cut through gangways to get to Lyndale, which, as you know, is a long uninterrupted block between California and Sacramento. For a while there was a vacant lot on Palmer in back of the house on Lyndale, so it made it easy (we used to call vacant lots 'the prairie,' an odd bit of Chicagoese). We went to church and school at Christ Lutheran Church, kiddy-corner from us on Richmond and MacLean."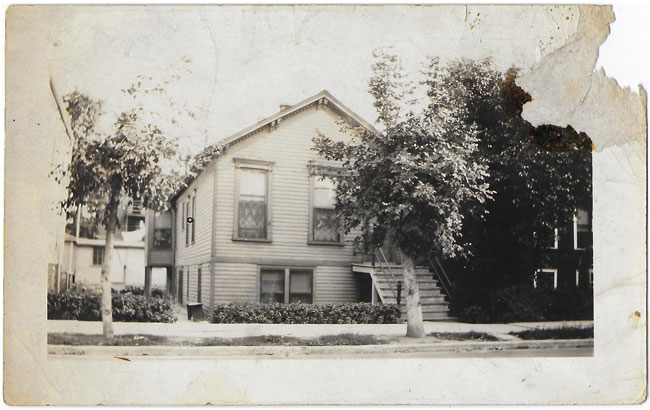 The photo above shows the house as it looked shortly after the Beckmans moved in. Below is a later photo from the 1930s after the wood siding was covered with asbestos shingle siding, for ease of maintenance and to improve fireproofing on the wooden house. Most likely this was also when the decorative Victorian brackets and dentils along the eaves and around the windows which can be seen in the first photo were removed, at a time when such details were no longer in fashion.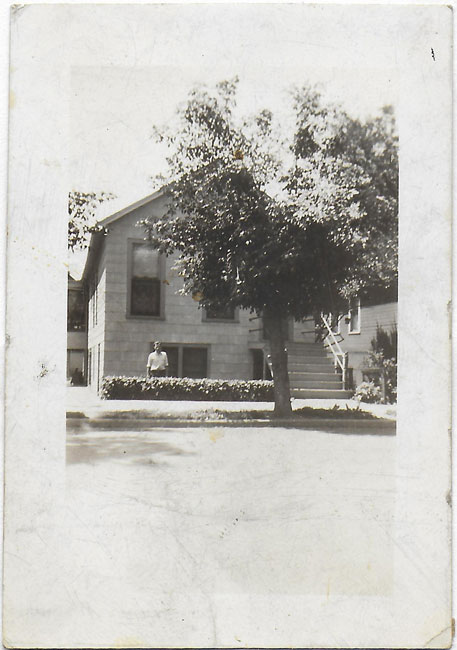 More recently the old asbestos shingles were covered by a new layer of vinyl siding, and a passerby might never have guessed that the little house underneath was over 120 years old. The little side yard behind the hedge in the photo above was paved over for a driveway in about 2003.
In the summer of 2016, three of the neighboring houses were sold to a developer and demolished for luxury condos. With a new cinder-block tower growing taller at 2903 next door, it seemed that the little house at 2869 would never enjoy a sunny afternoon again. In March 2017 the little house was torn down and replaced by a 3-unit condominium building to match the tower at 2903.