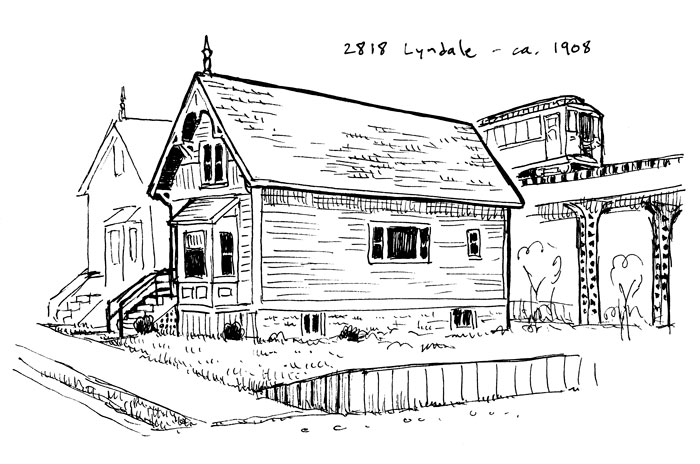 2818 W. Lyndale
Sven Gustav Johnson immigrated from Sweden in December 1880. A year and a half later he purchased the lot at 2818 and built a small workers cottage on it some time thereafter. In October 1883 he married Matilda Johnson and the couple raised seven children in this small house.
This house and a similar neighbor next door at 2816 were some of the earliest little houses built on the street that was until then open prairie land. A decade later, the quiet enjoyed by the Johnson family was lost when the Metropolitan Elevated Railroad in 1894 acquired a triangle of land across both lots to build what is now the Blue Line. The house at 2816 was demolished to make way for the new L tracks.
A photograph from 1908 shows that the front of the house was originally decorated with fanciful gingerbread detailing, ornamental bargeboards and a rooftop finial. Although most of the smaller decorations were removed long ago, until recently it was still possible to see the places where the decorative brackets were once attached.
The house at 2818 W. Lyndale was demolished in 2017.