Shadows of Unseen Geography
The history of Lyndale Street also includes its more recent reputation as a place of street gang violence. Though the Shakespeare district police station is only a block south on California Avenue, the street has attracted a large amount of lawless activity from the 1980s to the 2000s, perhaps because the two long blocks without cross-traffic seemed closed off to outsiders and to police attention.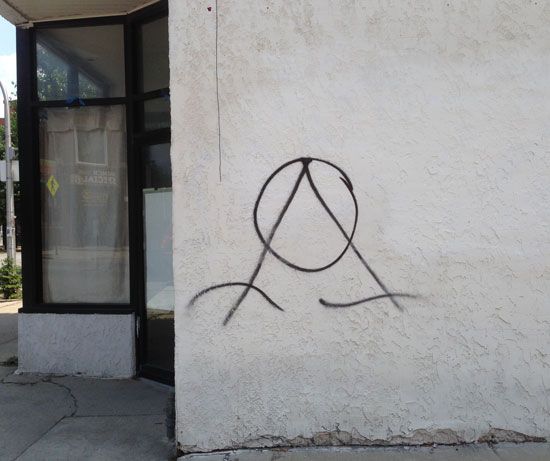 Lyndale has long been the territory of the Orquestra Albany, which traces its origins to an after-school music program at Darwin Elementary at the corner of Belden & Albany. Gang historian Zach Jones writes that in 1971 a group of young students in a school Salsa band program decided to form their own gang instead of joining the Latin Kings in the area. By the mid 1970s the members were in high school and recruiting younger, mostly Puerto Rican kids to strengthen their organization in rivalries with other ethnic gangs nearby. Since then the group has spread to the Chicago suburbs and other cities.
In chatting with neighbors who have owned homes on the block since the 1980s and 90s, it doesn't take long for tales of the disturbances of that time to come up: the top apartment over there was where drug dealers sold to a steady stream of customers – next door was a house that was torched in vengance against the lady who always called the cops on them – hooligans slashed the tires of all the cars down the street late at night – gun battles occurred at any time of day – over on Belden I saw a man shoot a guy in a doorway and I hid in my car so he wouldn't see me next. These incidents were isolated events but they cast long shadows over the story of Lyndale Street.
The original purpose of many Chicago street gangs was to defend the freedom of one ethnic group or another to live on a particular street without trouble. Fierce loyalty to place was proof of the commitment to hold their ground in the face of those who would force them out of the area. But the side effects of these prideful contests over unseen geographies certainly did not improve the actual condition of the streets they defended so bitterly.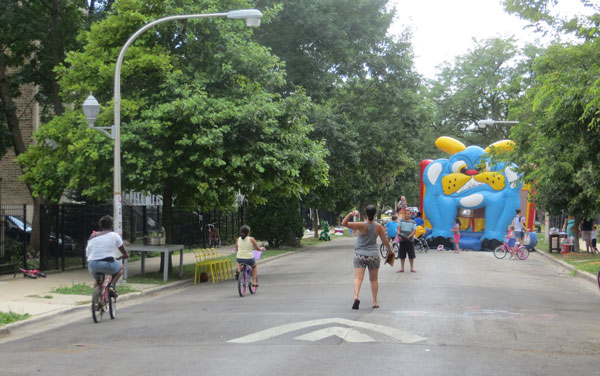 In the last two decades community pressure, police crackdowns and increasing rents in Logan Square have pushed many gang members to other areas. It's now safer for residents to walk at all hours, and for children to play without fear of violence. But just when its resilient residents might relax in newfound peace, the street's very structure and character are being erased as its houses are torn down in a boom of new construction.